Biancabikinis on Fast Company... thanks Hugh Whalan
happy to read the story of Biancabikinis on such a good magazine like Fast Company
thanks Hugh Whalan for the great article :)
How To Not Come Home From Your Next Vacation, And Start A Business Instead
You don't have to be stuck at that desk all summer. Here's how Bianca Forzano left her office and ended up with a thriving company that she operates from the beach.
In 2009, Bianca Forzano made the decision to give up her high paying job with Price WaterhouseCoopers to kite surf around the world. Originally from Rome, this adventurous Italian soon found herself in the sun soaked kite surfing mecca of Cabarete, in the Dominican Republic. She decided to stay and set up shop.
When Forzano first arrived, she started working for a friend's kite instruction business. She quickly found her feet and soon started her own business giving lessons for $50 per hour. As Forzano became more involved in the kite surfing scene in Cabarete through a local nonprofit called Kite Boarding for Girls, she realized that there was not a good sports bikini on the market. In short, when trying to kite surf in a regular bikini, there was a fair chance it would fall off.
This was the inspiration for Bianca Bikinis, a range of hand-made sports bikinis, which sell for about $100. Forzano currently sells the bikinis in the Dominican Republic and Italy, but expects to expand into Israel and the U.S. within the next year. She now spends seven months of the year in Cabarete to design and market the bathing suits, and the rest in Italy, where she produces them.
Forzano's story is a valuable reminder that it is possible to escape from a job that is not making you happy--even if the exact escape plan is not entirely figured out. Here are some of the things Forzano did to make sure her escape was a success: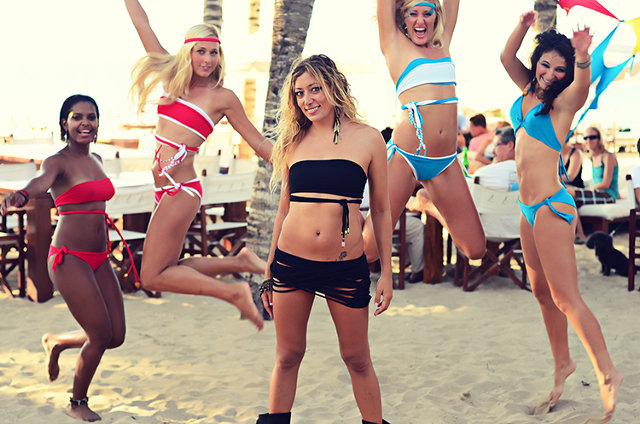 TRAVEL IS A GREAT WAY TO FIGURE OUT YOUR ESCAPE PLAN
Forzano made a conscious decision to get out of her comfort zone, and this exposed her to different ideas and a different way of living. The people Forzano met during her trip were expats living in places like Mexico and Belize and they were paying for their lifestyle by doing everything from yoga instruction to running pizza restaurants. A different life started to look not only desirable, but also achievable. Forzano started "realizing that there was another world out there that didn't involve a desk and a boss."
BUSINESSES THAT FOCUS ON TOURISTS (LIKE YOU!) CAN BE CHEAP AND EASY TO SET UP.
Forzano found her kite surfing instruction business remarkably easy to get off the ground because she already had the skills to teach aspiring surfers, and there were virtually no set up costs except for her kite board--which she already had. She was already in a beautiful destination, and she had a steady stream of visiting friends and acquaintances from Italy, who became her first customers. After advertising through print and online press in Italy, word has spread so much that Forzano now hires a couple of locals to help her with the kite surfing lessons every year.
START SMALL TO MINIMIZE COSTS
Forzano started small with her kite business, which meant she didn't have to risk much money while she developed relationships and knowledge of how business works in Cabarete. This positioned her perfectly when she wanted to launch her bikini line, a much more complicated (and potentially profitable) business.
Even with the bikini, Forzano started as small as she could. She hand made the bathing suits for the first year, until she saw that demand was growing quickly. She then partnered with a small Italian based factory that hand makes the products for her. By starting small, Forzano was able to minimize the cost of failure.
PICK A LOCATION THAT WILL ALLOW YOU TO GROW
Of course, starting small means that your revenue will also be small, and you need to be smart about choosing a location that accommodates this. In this sense, Cabarete was a great choice for Bianca. For her first year she rented a house for $200 per month (still within a five minute walk of the beach) and eating out cost her as little as $3 to $4 per meal. The town is small enough that everything can be reached by foot; Forzano didn't need a car or motorcycle.
Forzano really didn't need to have many customers at $50 per hour to pay for a lifestyle within 500 meters of one of the prettiest beaches in the Caribbean.
TRADE SERVICES WITH OTHER BUSINESSES TO DECREASE STARTUP COSTS
A smart way that Forzano saved money was taking advantage of a bartering culture that existed in Cabarete. She offered to teach an introductory yoga class for the local surf school. In return, she got access to their surf equipment for free. There are undoubtedly many opportunities for you to barter your skills in return for receiving something that will help your own business grow.
YOUR FAMILY MAY NOT BE THRILLED INITIALLY, BUT THEY WILL COME AROUND
Parents are often not particularly excited to hear their daughter or son is going to throw in their education to start a crazy sounding adventure in a bizarre part of the world. Forzano's parents were certainly confused by the idea that she would leave a high paid consulting job to move to the Caribbean to kite surf. Forzano's success has convinced them she has made the right decision. Now, her mother is a business partner who organizes all of the logistics and her sister does all the marketing for the bikinis. 

As for Forzano's future? It might involve a global bikini brand, and maybe another business or two. But whatever happens, one thing is guaranteed--Forzano will be near a beach.
What's your escape plan going to look like?
Hugh regularly writes about Destination Entrepreneurs on his blog. 
Leave a comment